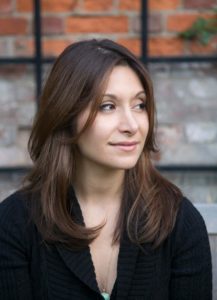 Dina Nayeri is the author of the acclaimed essay "The Ungrateful Refugee," published in The Guardian as a Long Read in 2017, and a forthcoming book of narrative nonfiction on the refugee life. Winner of a National Endowment for the Arts Grant (2015), the O. Henry Prize (2015) and fellowships from the McDowell Colony, Bogliasco Foundation, Yaddo, and several other artist residencies, her work is published in over 20 countries and has been recognized by Granta New Voices, Barnes and Noble Discover Great New Writers, and others. A finalist for the 2017 Rome Prize, her stories and essays have been published by The New York Times, NYT Magazine, NYTBR, The Guardian, Los Angeles Times, New Yorker, Granta, Wall Street Journal, The Atlantic, Vice, Guernica, Electric Literature, Conjunctions, Marie Claire, and elsewhere. Her debut novel, A Teaspoon of Earth and Sea, was released in 2013 by Riverhead Books (Penguin) and translated to 14 foreign languages. She holds a BA from Princeton, an MBA and Master of Education, both from Harvard, and an MFA from the Iowa Writers' Workshop, where she was a Truman Capote Fellow and Teaching Writing Fellow. Dina's second novel, Refuge, was released in 2017 and was a New York Times editor's choice.  She lives in London.
To contact Dina regarding school appearances, workshops, editing/consulting, or book club visits please visit the contact page.
Interviews
Watch Dina Nayeri on CNN's "Connect the World".
Listen to Dina Nayeri's interview 'Refuge' Captures Divide Between Father And Daughter Through Lens Of Immigration on NPR.